"The total amount of data or information created, captured, copied, and consumed globally is forecasted to increase rapidly, reaching 181 zettabytes by 2025." - Statista


Content is King. In today's world, a vast amount of content is being generated every second in a variety of formats. Blogs, videos, tweets, podcasts, articles, and now even augmented reality and NFTs – content just keeps evolving. What worked yesterday may not work today, and you must constantly adapt your strategies to stay ahead of the curve.
With so many channels to juggle and an ever-more demanding audience that expects value from every channel they engage - organizations need not only strategic thinking when crafting their content strategy, but they should also have the right approach in place for these various mediums!

One such crucial approach in content strategy is content modeling. Let's dive deep into what content modeling exactly means and how you can perform it efficiently with a headless CMS like Experro.


What is Content Modeling?

Content Modeling is a process that defines a structure for all the information that you have on your website. It documents the variety of content types associated with your brand, definition of its elements, and the relationship between them.
Developing a clear understanding of the purpose of each content piece that you have on your website is crucial. A content model can help you with exactly that by organizing the different types of content and assigning a pre-defined outline for easy replication in the future.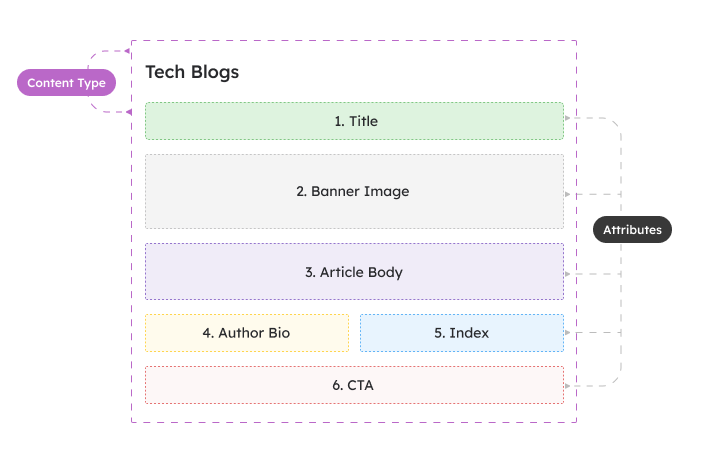 A content model is made up of 2 elements.

Content type: It is a skeleton that defines the structure in which future similar pieces of content can fit in.
A website may have separate content types for blog pages, service pages, resource pages, etc. When multiple content types come together, they make up the complete content model. In the above image, tech blogs is a content type, and any similar blogs in the future will also follow the same pattern.

Content attributes: These are the elements that combine to make a content type. For example, the tech blog page will consist of attributes like a title, banner image, article body, author bio, index, CTA, etc. These attributes can be of different formats (text, date, reference, rich text, etc.) depending upon the purpose of the element.
Top 5 Benefits of Content Modeling

A well-thought-out content model can serve a number of benefits that will eventually improve your overall content management.
Streamlines the content – Content modeling helps define the different content types and the relationship between them, making the website flow clear and easy to understand. Having a template for similar kinds of content reduces redundancy. It defines an outline that all future content pieces can follow.
Enables content reuse –Once you create content, you can be creative and use the same piece in multiple ways and on multiple platforms. Content modeling supports modification of the content, which ensures easy adaptation from one channel to another.

Since you can reuse the same content across multiple channels and departments, it exponentially increases efficiency too. You save on the time you would've invested in creating content for two channels.


Encourages collaboration – There are numerous stakeholders in a content creation process, from designers and developers to information architects and content creators. Having a structured model bridges the gap between these teams and brings everyone on the same page with respect to the types and formats of the content.


Improves Prioritization – Modeling helps in gaining clarity with respect to the different content types and the channels on which they will be displayed. It creates a baseline for the content strategy and ensures that all the future plans are in alignment with the same.


Reduces costs – Content modeling is a powerful system. Once the processes are in place and there is structure clarity, the resources will not be wasting their time on content that doesn't fit the organization's objectives.

Their efficiency will automatically increase as they'll be using their time more judiciously. This will lead to a decrease in production time from content creation to content production, ultimately reducing costs.

Now that you have a fair understanding of content modeling and its multiple benefits. Let's discuss how to start developing your own content model.


Steps to Build a Content Model

Let's assume that you own a tech website that has a team of dedicated writers and editors. They regularly deliver up-to-date technology news and keep their readers updated about the latest gadgets, trends, and apps in the market. With Experro, you can ease their job and make your content journey seamless. Here are some quick and simple steps to get started.
1. Review your content –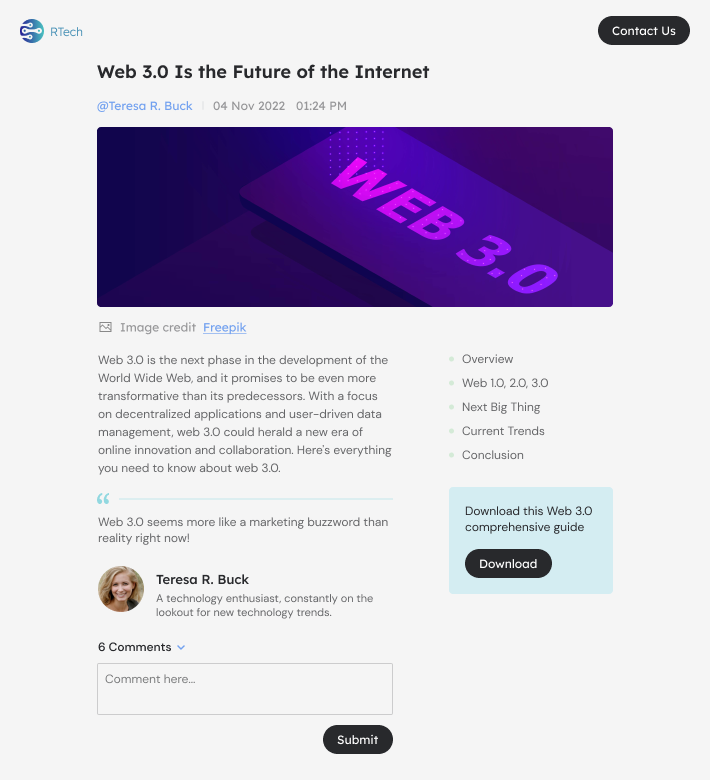 One of the first steps in creating a content model is to review and organize your website's content and blog posts. If you are still in the process of creating your website and do not already have it, open up any competitor's website whose content style matches the idea that you have in mind. Analyze the different formats and important elements of the posts.
Once you have an idea about the variety of content, create categories by putting similar kinds of content under the same header. These will become your content types. Create rough designs or wireframes for each content type based on the data composition.


2. Identify the structure –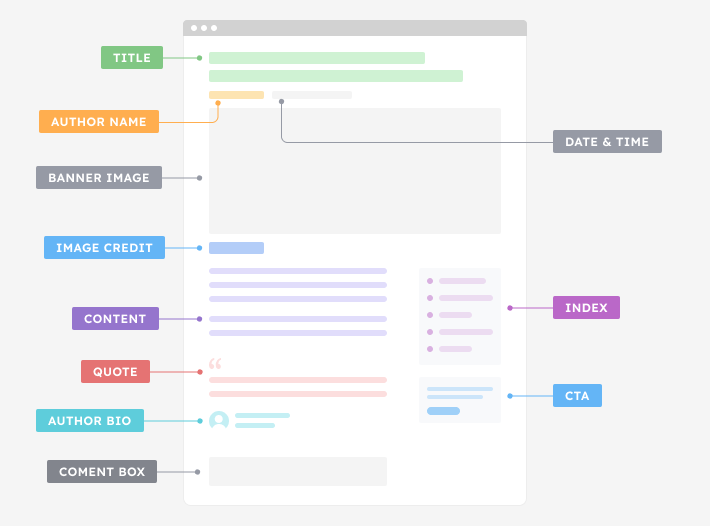 Now that you have a wireframe, the next step is to define the components and attributes that make up the wireframe. Repeat this step for each content type. This will ease the reusability of the components for similar types of content in the future.

Having a clear understanding of the relationship between your content types and attributes will ensure that all stakeholders are on board while creating different elements of the overall content experience.
3. Define content types –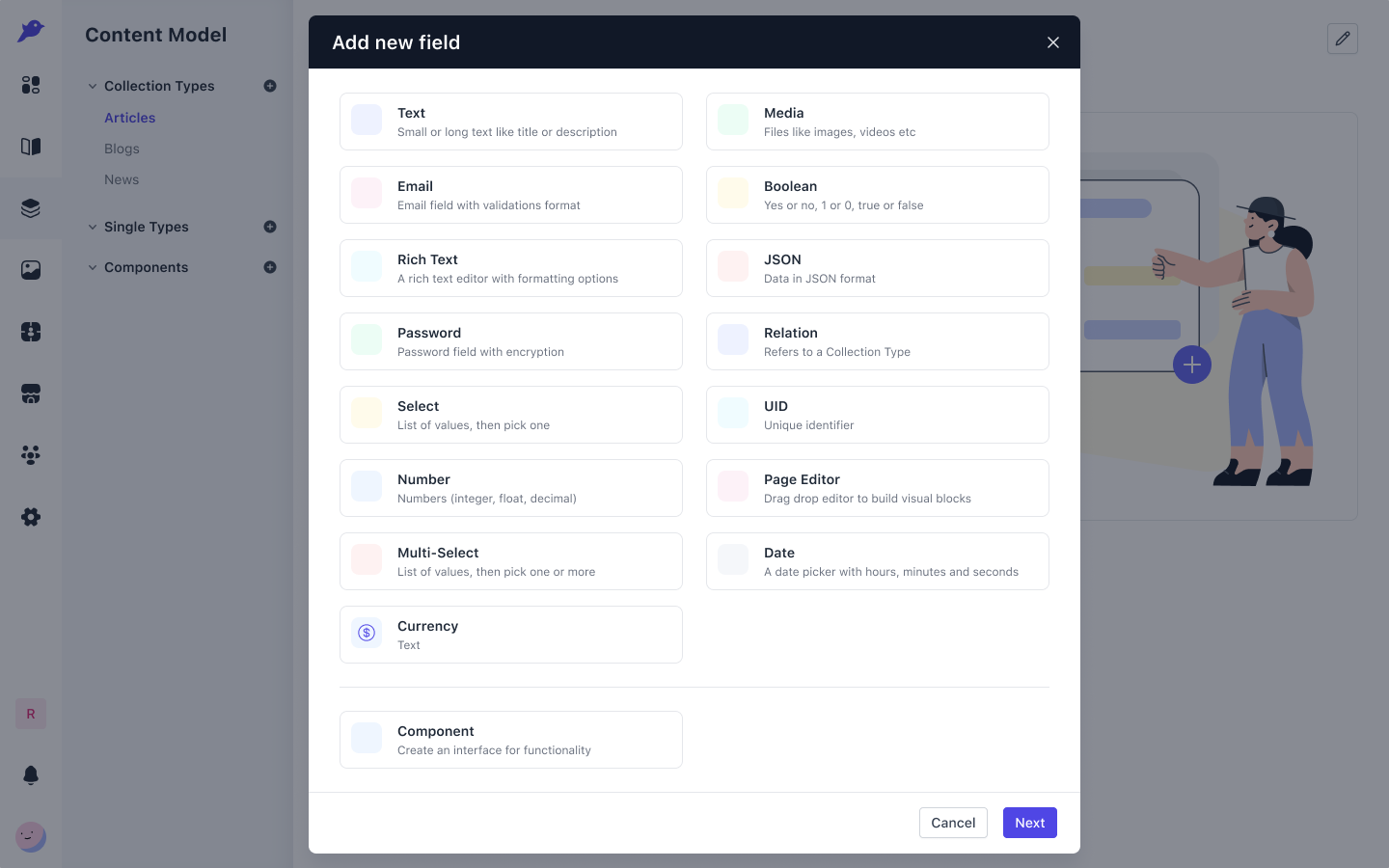 Once the attributes have been identified, create the required fields and add them to the content type.


Title – This field will contain the topic of the news article and will mostly be a one-liner. The 'Text' field can be used for this format.
Banner image – The featured image will be placed at the top of the article. Since an image needs to be inserted, 'Media' field will be the right choice here.
Date and Time – Experro has a separate field to insert dates, so the respective field can be used.
Author – This is a component that will be used repeatedly in multiple content types. So instead of manually writing author bios each time, a separate content type can be created for the same, which will include all the details of the author. Now, wherever an author needs to be added, just add the 'Relation' field, which will directly refer to the entries created in the author content type.
Article body – The body of a content piece can contain different forms of information. The writer can add text, images, videos, or even links. So, this section will require a field that is flexible with respect to the formatting options. 'Rich Text' is one such field that will allow you to add a wide variety of data.

4. Identify content relationships –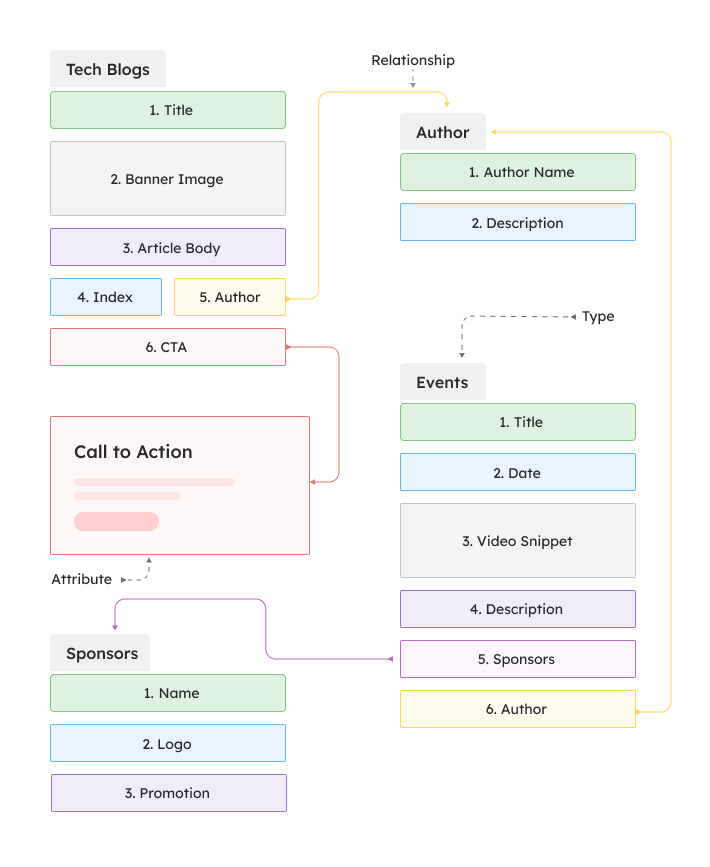 Create a map of the various content types with their components and link them with each other. The relationship between the various content types should be defined so that it's easier for the developers to properly understand the content model. By building out these relationships, you determine the flow of content on your website and ensure that all functionality and workflows remain the same.
Once you have ticked the above steps off the list, you are all set with your content model.


Your Content Modeling Solution
Content modeling is a critical part of content management, yet it is often overlooked. Many companies do not have a proper structure in place for their content strategy. By creating a model, you can ensure that all your content is organized and reusable. It will help you plan your content before you start creating it, making the overall process much more efficient.
Content modeling can get complicated at times, but don't worry; we've got your back! Experro has simplified the whole process and can help you create your own content model within minutes. It is the perfect solution for businesses that need help managing their content.

We're experts in providing easy-to-use, flexible solutions without sacrificing on quality or performance! If you want more information on how we can transform your business and make this journey less stressful, contact us now.