Two Factor Authentication is a way of verifying the user's identity by adding an extra layer of security after password confirmation. This ensures that only authorized users can access the account even if the password has been compromised.

You can enable 2FA on your Experro account, by using two methods:
2FA using Email

Choose this if you want to receive a one-time password on your email every time you log in.

2FA using Authenticator App

Choose this if you want to link an authenticator app for verification.
Enable Two Factor Authentication
Follow the below steps, to enable 2FA on your account:
Go to your profile and click on My Account.
Choose Security from the left sidebar and open the Two Factor Authentication tab.
Enable Two Factor Authentication by clicking on the toggle button.
When you enable the 2FA, the system will automatically enable the 2FA using email.


You can also enable the 2FA using the authenticator app, but it requires a few additional steps:
You need to install an authenticator app on your phone such as Google Authenticator, Microsoft Authenticator, Authy, Duo, etc.
Open the app and scan the QR code displayed on the screen in Experro.
You will get a six-digit code in your app, that you need to enter here for successful verification of the authenticator app.
Click on verify after entering the code, and then a recovery key will generate.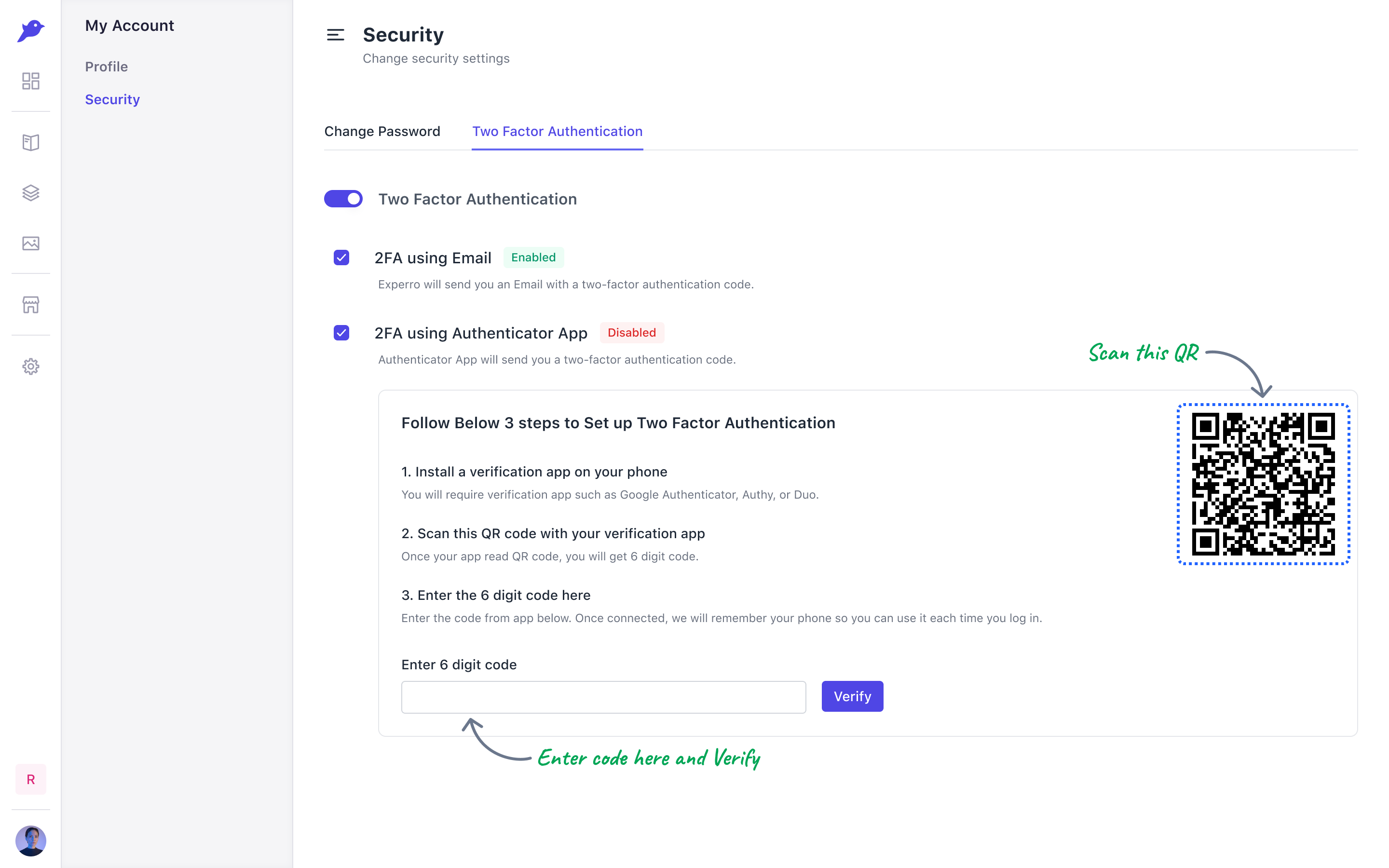 Copy this recovery key to a safe place, in case you lose access to your phone then you might need this key to gain access to your account.
Click on the button "I have copied, let's finish" to enable the authentication using the app.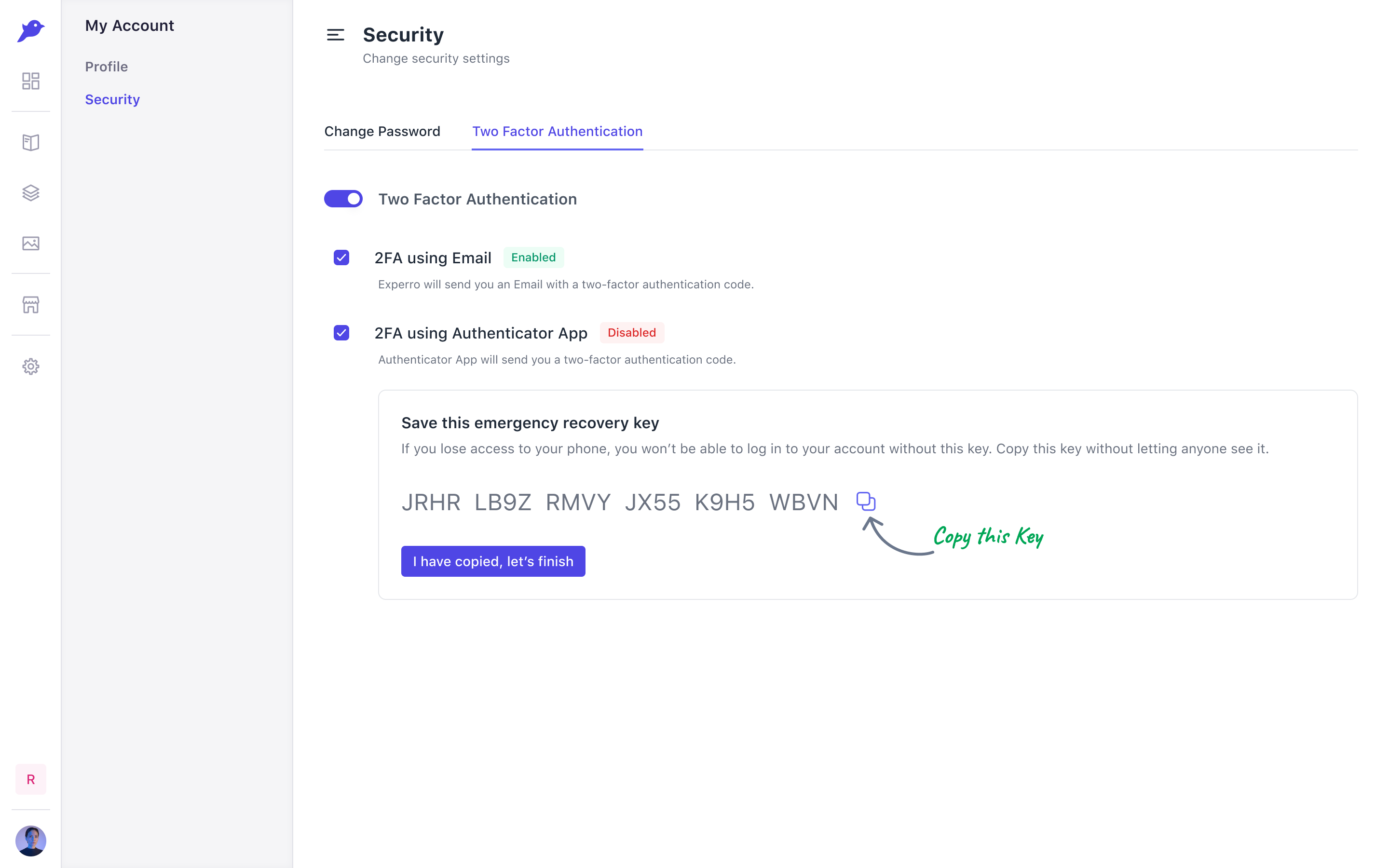 You can also select your first preference for 2FA, by default it's selected "2FA using Email".
Now when you log in next time, the system will ask for a two-factor authentication code and only after a successful attempt, you will be logged into your account.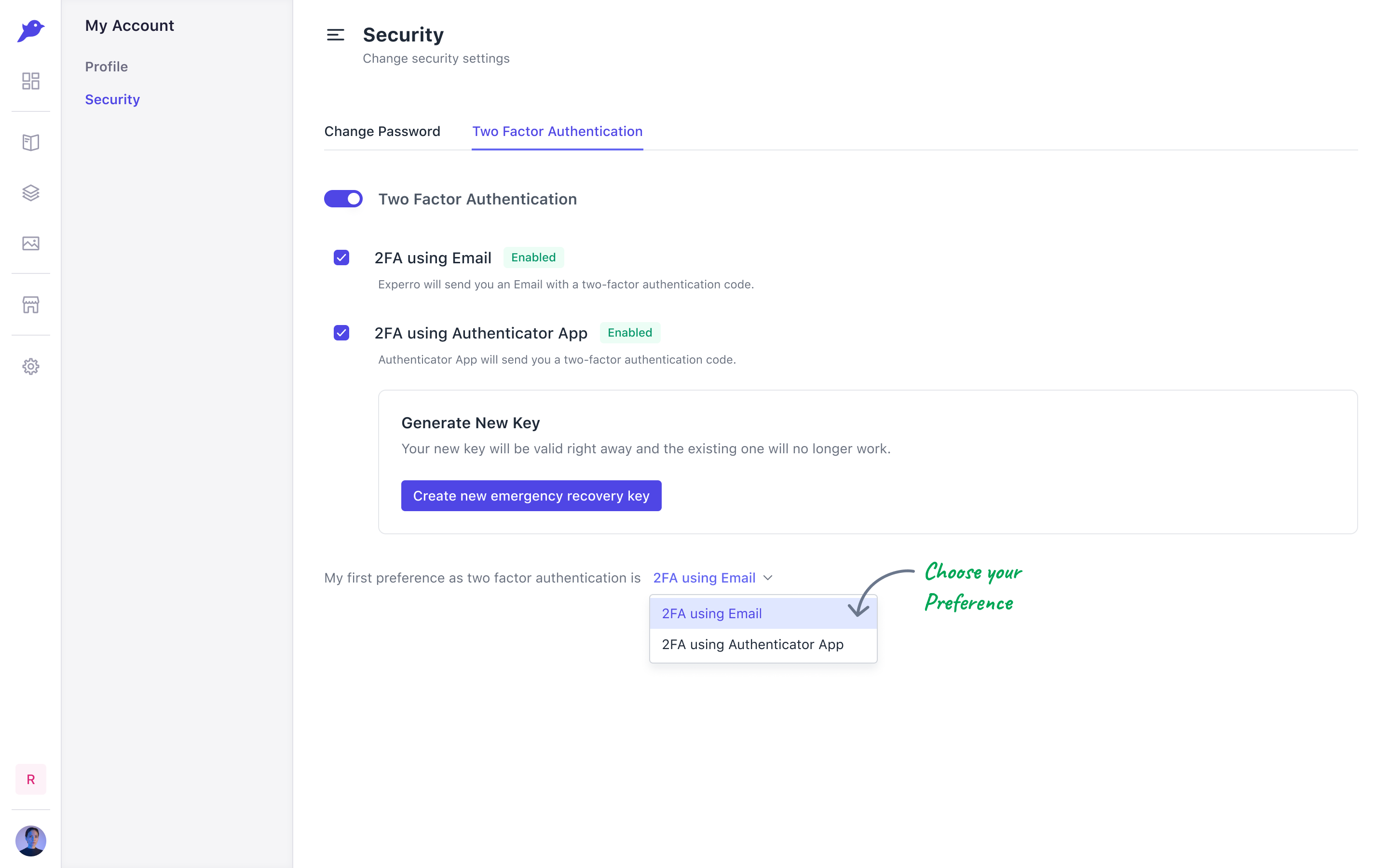 Note: If you lose access to your phone, then you can login by providing the recovery key and it can be used only once. After that, you will need to generate a new recovery key.
How 2FA changes the login flow?
After you have enabled the 2FA, then you will follow the same steps to login to your Experro account except only a difference when you enter your password successfully.
You will be asked to enter the code sent to your email (when 2FA using email is enabled).
or You will be asked to enter the code from your authenticator app (when 2FA using )
Disable Two Factor Authentication
You can disable two factor authentication in a few steps. However its important to note that doing this would remove the additional layer of security and we recommend that you keep it enabled.

Follow the below steps to disable the 2FA:
Go to "My Account" and choose Security.
Select the "Two Factor Authentication" tab.
Click on the toggle button for "Two Factor Authentication" to disable it.
A warning popup will appear that requires you to enter your password for confirming this change.
Once confirmed, hit the Disable button and you will no longer be asked for the 2FA.